What You'll Need:
old yearbook (optional), shoebox or box with a lid, craft paper, scissors, glue, tape, markers, paper, photos and memorabilia
Estimated Time
2-3 hours
Level:
easy
What Your Child Will Learn:
What's a yearbook? Gather craft supplies and place them on a table where the family can work together. You may want to find an old yearbook of your own or one of your child's to look through. Tell your kids that a yearbook is a book of memories and photos for one year. It's a way to remember your friends and the things you did that year. Showing them an old photo of themselves or yourself will get oohs and aahs . . . and maybe even a "That's you, Dad?"
Decorate your box. If using a shoebox, wrap the box and lid separately with craft paper and allow your kids to decorate the paper with markers. Write "2014 Yearbook" on the lid of the box. Don't forget to take photos!
Go on a memento-finding mission. Now it's time for the fun part. Begin collecting memorabilia from the year and placing it in the box. You might include vacation photos, school or sports certificates, drawings by your kids, recital programs, movie tickets, and so on. Let your kids search for things to contribute. You may even ask each family member to write memories from the year on pieces of paper and add those as well.
Set a date. Pick a date on the calendar, maybe around Christmas or New Year's Eve, and write "2014 Yearbook" by the date. This will remind you to pull out the box and go through the contents with your kids. Make it a family event! Ask each person to tell their top three favorite memories. You'll be amazed at all the things they experienced in just one year.
Share your photo! Snap a photo of your kids doing this activity and upload it to Facebook. Then tell your friends about all the fun and free activities available at Smart Kids Launchpad.
Teachable Moment
This is a great way to teach your kids gratitude and contentment. They will look back over the past year and remember what they experienced and accomplished, not what they bought. They'll see that great memories—the stuff that sticks with you—is what truly has value. Making this a family tradition each year will nurture a healthy perspective of the things that really matter.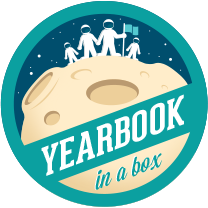 Mission Accomplished!
Did you complete this activity? Way to go! Get the badge for this activity and add it to your child's mission chart. Try to complete them all!
Get Badge
See what others are doing!