What Your Child Will Learn:
Walk kids through the concept. Explain the idea of this Mad Libs-style activity if your kids have never played before. They will choose words or parts of speech without reading the story beforehand. Once they are finished filling in all the blanks, they'll read the story aloud to see how wacky and ridiculous it is.
Choose your words wisely. Print the pdf for this activity. Have your child fill in the blanks based on the word directions (For example, they may write "skipped" in the blank marked "verb, past tense."). Continue filling in the blanks until they are all filled. But remind them not to read the story as they are choosing their words!
Read your silly story. Once they are finished, ask them to read the story aloud. Hopefully they will get a good laugh at how silly and wacky they made the story. Don't forget to take photos!
Share your photo! Snap a photo of your kids doing this activity and upload it to Facebook. Then tell your friends about all the fun and free activities available at Smart Kids Launchpad.
Teachable Moment
Having fun with your kids is one of the greatest joys of life. And while writing a wacky space story may not teach your child how to budget wisely, it will reinforce the concepts of giving, saving and spending in a fun way. Sometimes the silliest ways to learn are the stickiest for kids. So be wacky and ridiculous, and enjoy your kids' laughter through this fun lesson.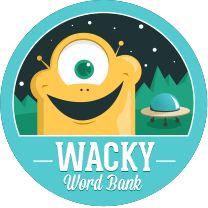 Mission Accomplished!
Did you complete this activity? Way to go! Get the badge for this activity and add it to your child's mission chart. Try to complete them all!
Get Badge
See what others are doing!