What You'll Need:
sticky notes, marker
Estimated Time
several hours
Level:
moderate to challenging
What Your Child Will Learn:
Choose the rooms. To play The Great Chore Challenge, you will need to create a Jeopardy-style scoreboard with five categories. Choose five rooms in your home that need to be cleaned. These will be your categories. Write the name of each room on a separate sticky note and stick them to the wall in a horizontal line. Place them about chest high so that kids are able to easily reach them.
Choose the chores. Now let's concentrate on one room at a time. On the sticky side of five notes, write five separate chores from difficult to easy to go with that room category. (Remember to write on the sticky side so kids can't see chores.) Flip the notes over and write a dollar amount for each chore on the front of each note. (For example, scrubbing baseboards might pay $5 and dusting might pay $1.) Then, stick the five notes below that room category on the wall with the highest dollar amount at the top to lowest dollar amount at the bottom. Repeat this for the other four rooms.
Explain the rules. Once you have the scoreboard on the wall, gather your kids in front of it. Announce that today you are going to play The Great Chore Challenge. Each child will select one chore at a time and complete it before they can move on to the next chore. The youngest child gets to go first. (Parents can play too!) You may decide ahead of time how you want to reward kids for their work. Each child might get paid a set amount for their work. Or you could celebrate with a family night out where the winner chooses where to go! Communicate the reward to your kids so they know what they are working for. Don't forget to take photos!
On your mark, get set, go! Once your kids select their first chores, shout "Go!" and let them run to complete them. (You may have to remind them to do the job well rather than just doing it fast.) When a chore is finished, have kids bring their sticky notes back to you. Write their names on the sticky note they completed and start a pile for them. Continue the game until all the chores are complete or until you call time.
Announce a winner. Once you call time, gather everyone together. Praise your kids for their hard work and dedication to a job well done. Add up each child's dollar amount and declare a winner. You may choose to pay each child the total amount on their sticky notes or pay a set amount for each child. Just be sure to give the winner an added bonus! That may mean something as simple as letting them choose where they want to go on a fun, family night out—to a restaurant, movie, or ice cream shop.
Share your photo! Snap a photo of your kids doing this activity and upload it to Facebook. Then tell your friends about all the fun and free activities available at Smart Kids Launchpad.
Teachable Moment
The lesson you want to stick with your kids after this activity is that money comes from work. If you work, you get paid. If you don't work, you don't get paid. There's no reason to be a drill sergeant about it, though. Work is a part of life, and there is great satisfaction in doing a job well and getting paid for your work. And the best part is that if you are doing work you love, it doesn't feel like work at all!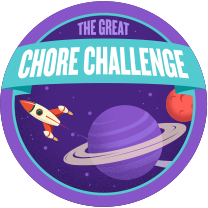 Mission Accomplished!
Did you complete this activity? Way to go! Get the badge for this activity and add it to your child's mission chart. Try to complete them all!
Get Badge
See what others are doing!