What You'll Need:
three envelopes, glitter, crayons or markers, glue, stickers
Estimated Time
30–60 mins
Level:
easy
What Your Child Will Learn:
Have a money talk. Talk to your child about ways they spend money. What do they want to buy or save their money for? Who might they give money to—a church or a special charity? Once they know what motivates them, they can begin to make a plan for their money.
Introduce the envelopes. Place three envelopes on the table, as well as craft items to decorate with. Tell your child that they will create three envelopes—one for giving, one for saving, and one for spending.
Create works of art. Have your child write "Giving" on one envelope, "Saving" on the second, and "Spending" on the third. Then, let them decorate their envelopes using the craft supplies. Encouraging them while they work will show them that you care about their goals. Don't forget to take photos!
Place the envelopes within reach. Once they are finished with the envelopes, they can find a place to keep them—preferably somewhere that is easily accessible. Being able to reach the envelopes and count their money reminds them that this is a real process and that they have a big hand in making it work.
Money comes from work. Finally, talk with your child about some ways they can earn money for their envelopes. Choose some age-appropriate chores and decide how much each chore will pay. Have a payday at least once a week and coach them on putting the proper amount into each envelope. (For example, if they earn $5, place $1 in Giving, $2 in Saving, and $2 in Spending.)
Share your photo! Snap a photo of your kids doing this activity and upload it to Facebook. Then tell your friends about all the fun and free activities available at Smart Kids Launchpad.
Teachable Moment
Put money into the giving envelope first in order to teach them how important it is to give. Saving comes next, then spending. Teaching your child the envelope system lays the foundation for budgeting. They will learn about living on less than they make, giving, spending wisely, and having patience while they save toward a big goal.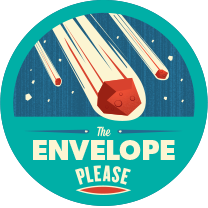 Mission Accomplished!
Did you complete this activity? Way to go! Get the badge for this activity and add it to your child's mission chart. Try to complete them all!
Get Badge
See what others are doing!