What You'll Need:
cookie mix or ingredients to bake cookies, baking pan, parchment paper,markers, construction paper, gift box, gift tag
Estimated Time
30–60 mins
Level:
moderate
What Your Child Will Learn:
Make a plan. Today, you and your child are going to bake and deliver Smart Cookies and deliver them to a relative, neighbor or friend.
Choose the lucky recipient. Come up with a list of relatives, friends or neighbors who you would like to surprise. Maybe it's someone who is always helpful to your family. Or someone who has lost a pet or a loved one. Talk about the "why" so that your kids can learn to be thoughtful givers.
Time to bake. Whether you use a cookie mix or our Smart Cookies recipe, let your child gather the ingredients and help them follow the instructions. While you mix the ingredients, talk about fun ways to present the gift. Then, pop the cookies in the oven to bake. Don't forget to take photos!
Make it special. While the cookies are baking, decorate a box or container to place the cookies in and create a handmade card or gift tag. Let your child draw a picture or write a kind note to the person. Explain that their note or drawing will mean as much as the cookies.
It's time to give. Drive or walk to the recipient's house to deliver the cookies. Have your child knock on the door and present the cookies saying, "Surprise! We brought you cookies."
Share your photo! Snap a photo of your kids doing this activity and upload it to Facebook. Then tell your friends about all the fun and free activities available at Smart Kids Launchpad.
Teachable Moment
When your child sees the surprised and happy reaction of someone who had no idea this was going to happen, they will understand that they have the power to bless others in simple and fun ways.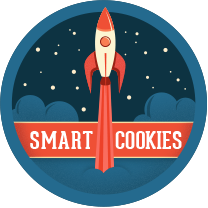 Mission Accomplished!
Did you complete this activity? Way to go! Get the badge for this activity and add it to your child's mission chart. Try to complete them all!
Get Badge
See what others are doing!