What You'll Need:
Popsicle/craft sticks, construction paper, markers and crayons, scissors, magnet roll/strips, glue/tape
Estimated Time
1-2 hours
Level:
easy
What Your Child Will Learn:
Set some goals. For today's activity, you are going to shoot for the stars! Gather your family together at the kitchen table to talk about some goals you'd like to set as individuals and as a family. Your child may want to read a certain number of books each month, and the family may want to have a monthly game night. Capture the goals by writing them down on a piece of paper.
Create your stars. Trace outlines of stars on construction paper and cut them out. Begin by writing a goal from your list on each of the stars. If it is an individual goal, write the person's name on the star beneath the goal. You may choose to decorate or color the stars (just make sure you can still read the goal). Glue or tape a craft stick to the back of each star. Finally, cut a piece of magnet strip and adhere it to the back of the stick. Then place the stars at the bottom of the refrigerator. Don't forget to take photos!
Celebrate your shooting stars. Explain to your children that each time they (or the family) complete a goal, they will move their star from the bottom to the top of the fridge—like a shooting star! As a family, you can celebrate each time this happens, and you can track your progress over the year by watching the stars shoot to the top of the fridge.
Share your photo! Snap a photo of your kids doing this activity and upload it to Facebook. Then tell your friends about all the fun and free activities available at Smart Kids Launchpad.
Teachable Moment
When you set a goal and write it down, it becomes a powerful and driving force in your life. Keeping your family goals in a place where the whole family can see them is a good reminder of what you are working toward and what you've already accomplished. When one of the star goals shoots to the top of the fridge, your kids are reminded that they are winning! Use that to keep them motivated and you'll be amazed at the results.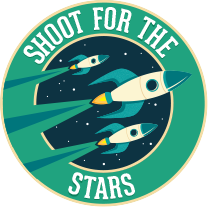 Mission Accomplished!
Did you complete this activity? Way to go! Get the badge for this activity and add it to your child's mission chart. Try to complete them all!
Get Badge
See what others are doing!