What You'll Need:
paper, pen/crayons/markers
Estimated Time
30 mins
Level:
easy
What Your Child Will Learn:
Ask the question. Quick note: For this activity, kids will get a hypothetical $100. Sit down with your child and ask them what they would do if they had $100. Don't give them suggestions or think for them; just see what answers they come up with. They may choose to spend the money, save it for a big toy or item, or give it away.
What's your plan? Have your child draw a picture of what they would do with the money (older kids may want to simply write their plan). Some children might draw a new video game or toy, while others might write a story about giving away the money. This is their plan, so remember to be supportive in whatever they decide. Don't forget to take photos!
What's your choice? Once they are done drawing their picture or writing their plan, ask them why they made that choice. You may get a simple "I don't know," but questioning them a little can help you learn about their priorities, and you can use that to nurture or direct them.
Go for a goal. Once you know what motivates your child, help them come up with a clear giving, saving or spending goal that they can work toward over the next few months. If they wish to save for a big item, then write down the cost of the item and how long it will take them to reach that goal. Then, hang their plan on the refrigerator or a wall so they can refer to it while working toward their goal.
Share your photo! Snap a photo of your kids doing this activity and upload it to Facebook. Then tell your friends about all the fun and free activities available at Smart Kids Launchpad.
Teachable Moment
Remember, in order to handle money responsibly, you must have a plan. Kids need to learn that lesson early to prevent them from overspending and using debt as they grow older. The money habits they learn—both good and bad—will stick with them. So put them on the right path to win with money!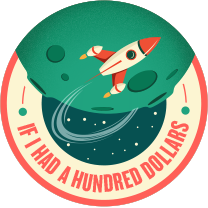 Mission Accomplished!
Did you complete this activity? Way to go! Get the badge for this activity and add it to your child's mission chart. Try to complete them all!
Get Badge
See what others are doing!