What You'll Need:
shoebox, craft paper, tape, scissors, art supplies (markers, stickers, glitter, glue), thank-you card, energy bars, gift cards for take-out food, drink powders, candy/snacks, gum/mints
Estimated Time
up to one day
Level:
moderate
What Your Child Will Learn:
Gather your supplies. Begin by talking to your child about the many ways firefighters help your community. Tell them that today you are going to say "thank you" to your local firefighters by creating a Kindness Kit and delivering it to the fire station. Allow your child to help you shop for the supplies and goodies you will use to fill your Kindness Kit. Don't worry about asking them to contribute money; that's not the focus of this exercise.
Decorate and fill the box. This is where you and your child get to have some creative fun! Wrap the shoebox and lid separately with craft paper. Set out craft supplies and let your child begin to color and decorate the shoebox. When they are finished, help them fill the box with all your snacks, gift cards, and other goodies. While you do this, talk to your child about what it might be like to sleep at a firehouse or to always be on call and ready to help others. Working and talking together will help them see how fun giving can be!
Say "thank you." Drive to your local fire station. When you arrive, have your child introduce themself to one of the firefighters and hand them the Kindness Kit. If other firefighters gather around, be sure to thank them for all they do. Don't be surprised if you quickly become the most popular people in the firehouse. Who knows, they may even give you a tour or let you see the inside of a fire truck! Don't forget to take photos!
Share your photo! Snap a photo of your kids doing this activity and upload it to Facebook. Then tell your friends about all the fun and free activities available at Smart Kids Launchpad.
Teachable Moment
There are people in this world whose very job is to help others—sometimes by putting their own lives at risk. They may not get much thanks for their efforts, but you and your child can change that by thanking them for the many ways they serve your community. Giving your child an opportunity to show their gratitude will teach them to be thoughtful, generous givers, and they may even have a blast doing it!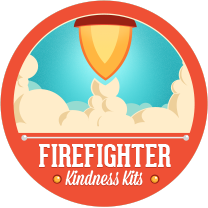 Mission Accomplished!
Did you complete this activity? Way to go! Get the badge for this activity and add it to your child's mission chart. Try to complete them all!
Get Badge
See what others are doing!