What You'll Need:
toy ads from newspaper inserts, store catalogs, or the internet; scissors; 3 pieces of construction paper; markers; glue stick; tape
Estimated Time
1-2 hours
Level:
challenging
What Your Child Will Learn:
Go "shopping." Tell your kids that today they are going to shop through toy catalogs and choose three things they want to buy: an inexpensive item (that would take 2–3 weeks of saving time to buy), a medium-priced item (with 4–6 weeks of saving time), and a higher-priced item (with 2–6 months of saving time). You may help guide your kids as they "shop" for toys, but let them make the final choices. Work together to narrow down their choices and cut out the three pictures.
Create your goal sheets. Grab three pieces of construction paper and glue a toy image to each of the pieces. At the top of each sheet write "Saving Goal" and the saving time required (see Step 1 for estimated times for each item). Then beneath each picture write, "I've Saved $" and leave space for your child to track their savings. Each week when they earn their commission for chores and get paid, they will write in the amount they've saved that week. Don't forget to take photos!
Stay motivated. Place their goal sheets in their rooms or somewhere they can easily see them. Talk about their goals often to keep them motivated and on track for saving.
Make a purchase! Finally, once they have saved enough and are ready to buy, make a huge deal out of it (the more they save, the more you celebrate). Take them to the store and let them make their purchase. Praise them for their hard work and patience. This will boost their pride and give them the confidence to do it again. And guess what? They will!
Share your photo! Snap a photo of your kids doing this activity and upload it to Facebook. Then tell your friends about all the fun and free activities available at Smart Kids Launchpad.
Teachable Moment
Learning patience is hard—especially when you're a kid! The goal here isn't to make your child work toward purchasing all three items. It's simply to get them to work toward a goal and to have patience in the process. If they can work to save for the inexpensive item and feel satisfied, you can stop there. If they want to keep working toward that big goal, that is great too. Just give lots of encouragement and praise along the way!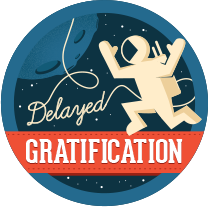 Mission Accomplished!
Did you complete this activity? Way to go! Get the badge for this activity and add it to your child's mission chart. Try to complete them all!
Get Badge
See what others are doing!