What You'll Need:
puzzle printout, paper, pen, scissors, crayons or markers, tape
Estimated Time
1–3 hours
Level:
easy
What Your Child Will Learn:
Identify the goal. Kids can be easily motivated by something as simple as ice cream or a small toy. Today, your child will learn to set a goal and work toward reaching it. Ask your child to think of a toy or item they would like to buy.
Ready, set, draw. Once your child chooses a goal, have them draw a picture of it on the puzzle printout. Make sure they fill the entire puzzle grid with their drawing.
Choose the chores. Next, cut out the puzzle pieces. On the back of each piece, write down a chore and the commission your child will earn for it. All of the puzzle pieces together should equal the cost of the item they wish to buy. Chores can include vacuuming, washing windows, cleaning the bathroom, or doing yard work—just as long as they are age-appropriate.
Complete the puzzle. It's time to get to work! Have your child choose a chore and complete it. When they are finished, tape the puzzle piece on the fridge and pay them for their work. Continue doing this until the puzzle is complete. If they complete the puzzle in one day, you might reward them by going to the store to buy the item. Be sure to give them lots of praise and celebrate a job well done! Don't forget to take photos!
For a bigger item, it may take longer to reach the goal. For example, a child may not be able to earn enough in one day for a video game or game system. The goal here is to teach your child to set a goal and work and save to complete the goal.
Share your photo! Snap a photo of your kids doing this activity and upload it to Facebook. Then tell your friends about all the fun and free activities available at Smart Kids Launchpad.
Teachable Moment
Saving is a process that takes time. It builds patience and is incredibly rewarding for those who are willing to put in the time and effort to work toward a goal. The pride in a job well done—in this case, saving for a while—will boost your child's confidence. Let them know how proud you are of their patience and hard work!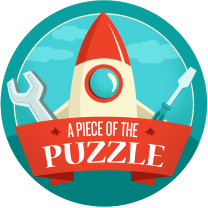 Mission Accomplished!
Did you complete this activity? Way to go! Get the badge for this activity and add it to your child's mission chart. Try to complete them all!
Get Badge
See what others are doing!